Learn how to record and download Music from Rhapsody™
Record, convert and save Music Files from Rhapsody.com
Rhapsody™ protects its music from being downloaded using a specialized process. Audials Tunebite Premium lets you get these songs in spite of this by simply recording via the soundcard.

The process is decidedly simple. Audials Tunebite Premium records exactly what you hear in your speakers and identifies individual songs via an audio fingerprint, so that these songs appear neat and tidy in your player with the song titles attached.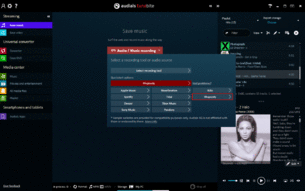 Record from any Music Streaming Service with Audials Tunebite Premium
This streaming recorder has the advantage of preconfigured settings for recording and saving audio from the most popular streaming platforms. All other audio streams can be recorded with the program's three different streaming methods. Using the preconfigured recording settings, you can record and save audio from Rhapsody™ with ease.
Learn step-by-step how to record and download Music from Rhapsody™
Start Audials Tunebite Premium and switch to the "Save Music" view located in the "Streaming" section.
Select the profile with the desired file format from "Format:" on the downside of your screen.
Click "Audio/Music Recording" and in the dropdown-menu that appears, click on the tile with the title "Rhapsody".
On rhapsody.com play back the music that you would like to record.
Audials creates in the "Save music" view a list with all the music files that are being played. You can follow how music is automatically recorded, separated into individual files, converted into your preferred file format and tagged.
The completed files are then displayed in the Audials player on your right hand side.
If some files have been incorrectly named or tagged, you can add tags manually by selecting the file, right clicking on it and choosing "Edit" option.
You can now play the files with Audials or drag and drop them into another application or Windows Explorer to export them.
Record Audio Streaming from Rhapsody™ with Audials Tunebite Premium!
Only Audials makes it that easy to record music from the internet. This process is not just limited to Rhapsody™, but can be used on countless other sources as well. Audials lets you download your music entertainment from your choice of websites. After downloading your music, you can listen to it on your computer right away, convert the files into any desired format and/or transfer them to your portable devices (Android Smartphone, Tablet, iPhone, iPad, Xbox, PSP, PDA, etc.), so that you can enjoy your media away from home.
About Rhapsody™
Rhapsody is, quite simply, the ultimate digital jukebox: For $10 a month you can listen to whatever you want, whenever you want, on whatever gadget you choose, from the hottest new releases to our decades-spanning catalog of 13 million - yes, 13 million - songs. And if you're not sure exactly what you feel like listening to, allow our crack team of musical experts to play you with personally tailored recommendations, playlists, cheat sheets, essays, arguments and delightfully random tangents, holding forth on everything from the highlights of Hank Williams' massive oeuvre to the albums that directly influenced Nirvana's Nevermind to a detailed beginner's guide to the music of Colombia to the biggest hip-hop releases in the last month or so - and that's just one day's work.
Recently Rhapsody acquired Napster International, the first subscription (flat-rate) music service in Europe. The acquisition of Napster Services in Germany and the United Kingdom gives Rhapsody an ideal entry to the European market. Rhapsody™

Please note

Music from Rhapsody.com is copyrighted. Any redistribution of it without the consent of the copyright owners may be a violation of the law in most countries, including the USA. Audials AG is not affiliated with Rhapsody™, nor the company that owns the trademark rights to Rhapsody™. This page is provided for compatibility purposes only, and in no case should be considered an endorsement of Audials Software products by any associated 3rd party.