Vevo™ Support Page
Download, record, stream and convert Music Videos and Video Clips from Vevo™
How to download Video Clips from Vevo™ with Audials Moviebox
Learn Step by Step how to stream and capture Music Videos from Vevo.com
Downloading videos from Vevo™ is a cinch with Audials. Audials automatically recognizes any video that your browser plays on Vevo™, downloads it at the highest possible speed and then correctly names the videos afterwards.

Audials can pick up and identify the videos that are being played by analyzing the data coming from your browser. It is a simple and effortless download process. So much so that you can start watching a video online and have it on your computer right away.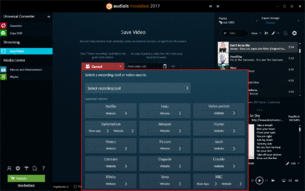 Record from any Video Streaming Service with Audials Moviebox
This streaming recorder has the advantage of preconfigured settings for recording and saving video from the most popular streaming platforms. All other video streams can be recorded with the program's three different streaming methods. Using the preconfigured recording settings, you can record and save videos from Vevo™ with ease.
How to record and download Videos from Vevo™
Step 1: Start Audials Moviebox, Tab "Streaming - Save video"
Step 2: Click "Video recording", click "Vevo" tile. Play back Vevo™ Streaming in Browser
Step 3: Movie is automatically saved as file (e.g. MP4 video)
The Vevo™ video streaming can be recorded and saved in the video file formats MP4, WMV, AVI, 3GP or others. The Audials Windows software tool will tag the file of the movie or the episode of a TV series afterwards.
Audials Moviebox records Video Streaming of Vevo™!
Only Audials makes it that easy to record and download videos from the internet. This process is not just limited to Vevo™, but can be used on countless other sources as well. Audials lets you download your video entertainment from your choice of websites. After downloading your videos, films and series, you can watch them on your computer right away, convert the files into any desired format and/or transfer them to your portable devices (Android Smartphone, Tablet, iPhone, iPad, Xbox, PSP, PDA, etc.), so that you can enjoy your media away from home.
About
Vevo™
Vevo™ is a new music video service created by Universal Music™, Sony Music ™and Abu Dhabi Media Co™. The site is powered by You Tube™ and provides music videos from Universal Music,™ Sony Music™ and EMI Music™.

At the beginning of 2010 Vevo™ ranked as the number one high quality online video service in the US and its intentions are to attract big advertisers in order to get additional revenue for You Tube™, Universal™ and the other major music publishers involved in the deal.

Vevo™ is a premium music video and entertainment site for consumers, advertisers and content owners offering top-notch music taking advantage of YouTube™'s video technology. Content is available through a new Vevo™ channel, on Vevo.com, the main site, and with a Vevo™ embedded player. It also serves as a syndication platform for additional sites that will expand Vevo across the web. Vevo™

Please note
Videos from Vevo.com are copyrighted. Any redistribution of them without the consent of the copyright owners may be a violation of the law in most countries, including the USA. Audials AG is not affiliated with Vevo™, nor the company that owns the trademark rights to Vevo™. This page is provided for compatibility purposes only, and in no case should be considered an endorsement of Audials Software products by any associated 3rd party.