Audials Tips & Tricks: Improving the Music Search
Find more Songs by Top Artists even faster with Audials One
How do I get the most out of the Music Search Function?
The music search in Audials One quickly finds the best songs for you via preconfigured music portals and records them directly. Occasionally, however, some tracks are only available from certain websites, in poor quality or can't even be found at all. If this happens, the selection of searched music portals can be reconfigured or, with the help of plug-ins, even expanded. In this way, additional music sites which do not come pre-installed in Audials can also be searched for songs.
What exactly is a Plug-in?
A plug-in is an expansion module that can be used by a software program to expand its functionality. Most plug-ins aren't actually produced by the software publisher, as they can be created by anyone who has enough knowledge of programming.
How do I install extra Plug-ins and get even more Songs in top Quality with the Music Search?
To do this, click on "Options" in the bottom-left of the Audials One window and then select the menu option "Search plugins".

Then click on the button "Learn more and find additional Search & Record Plugins" at the top of the options window. This will open a website with more information about plug-ins.
Here you will see the link >>> MOVE NOW DIRECTLY TO the Thread new Plug-Ins of THE SEARCH&RECORD PLUG-IN COMMUNITY <<< which takes you to the Audials Forum where you can find links for new plug-ins.
Download the desired plug-in files and save them directly to your PC.
You can now add the downloaded plug-ins in the Audials plug-in menu. To do this click on the "Add..." button.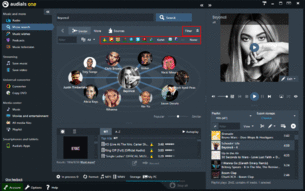 You will now be able to specify which sources the "Music Search" function uses by changing the "Filter" when selecting an artist. By doing this, you'll be able to get maximum results for music in top quality.
Go Super-turbo by combining Music Search with Wishlist
The increased power of Audials One with additional plug-ins can also be used for searches with the "Music Wishes" function. To do this, click on "Manage sources" and then activate the option for using music websites. In this way, not only pre-configured music portals will be used for fulfilling music wishes, but also the self-configured portals. Up-to-date wishlists can be obtained from the Audials Community.
I still don't have Audials One
Well then it's time to make the change! Only with the current Audials generation is it possible to enjoy all the combined benefits of your own and other users' wishlists as well as Audial One's turbo-speed music functions, bringing you your favorite music rapidly, free and legally. Upgrade here
Please note
Plug-ins are created by third parties and not by Audials AG. Plug-ins placed in the community by third parties from their internet sites to be downloaded by another party will not be inspected by Audials for functionality, viruses or the legal validity of such plug-ins.
Users install and use plug-ins at their own risk. Audials AG neither guarantees nor assumes liability whatsoever for the use of plug-ins and the consequences associated with using such plug-ins to acquire media.
Media acquired with the Audials Music Search in general, and with the plug-ins specifically, are solely for private use as a private copy and may not be passed on to or made available to a third party. The user is responsible for ensuring the legality regarding the copyright status of the sources in connection with such media before use. further Details