Audials App Tips & Tricks: Get the Best out of Audials Radio
The best Tips for Audials Radio on Android™ & iOS™
The Audials Radio App
With Audials Radio you find the best radio stations for your favorite music by entering a desired artist or according to music genre, language, country or what's near to your current location. With music recording, Audials Radio also provides you with a huge amount of top hits from your desired music genre and automatically records and saves them on your smartphone as MP3s with complete ID3 tags and even album images. Hits you hear on radio stations can even be retrieved from the radio history at a later point to be recorded as MP3s. In addition, the app also has numerous other useful features.
For Android™ & iOS™
Audials Radio provides you with entertainment on a variety of operating systems with Internet radio and the best music. In this workshop, we give you an overview of the best tips and tricks for Audials Radio for Android™ and iOS™ while the app is also available on other platforms. More about the Audials Radio Apps

1) The best Tip for Audials Radio Android™ App
Experience mobile Music Entertainment with your Android™ Smartphone
Tip: Copy Music without a Cable from your PC to Smartphone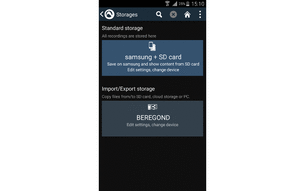 Synchronize your PC Music Collection with your Smartphone
To do this you will need a PC on which a version of Audials is installed (a free demo version is enough). On your PC simply log onto Audials Anywhere using your free Audials account. Audials Anywhere on your PC

Next open up Audials Radio and click on "Sign in" on the main screen of the app. You then use the same account to sign in as with your PC.

You then click on "Music" followed by "Import/Export and storage settings" at the very bottom and then select your PC (perhaps you have to add it first). You will now see the music on your PC as well as on your smartphone and it is possible to copy the desired music to your Android device by clicking "Copy".
2) The best Tips for Audials Radio for Android™ & iOS™
Create Favorites Lists with Android™ Devices and Apple iPhone™ and pin your favorite Artists
Tip 1: Working with Favorites Lists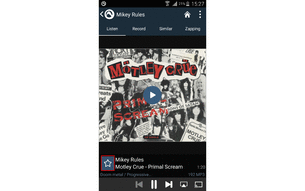 Tidy up your Radio Station Collection
Making favorites lists really makes good sense if you listen to a lot of different stations for various genres. In this way you can create a list of the best stations for every type of atmosphere and each different genre.

When you start out, you only have one favorites list which you can add stations to simply by clicking on the star that is next to the name of each station.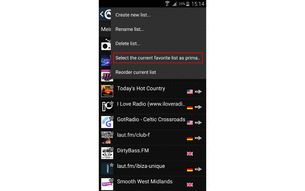 Managing Lists
In order to work with multiple favorites lists, go to existing favorites lists by navigating through "Radio" and then "Favorite stations". You can then create a new favorites list by clicking on the symbol with a star and pencil. This will automatically become the main list into which all newly added stations are saved.

If you want to select another list as your primary list so that newly added stations are saved directly to it, go to the "My favorites" screen, click on the star/pencil symbol and then on "Select the current favorite list as primary list".
Tip 2: Pin your favorite Genres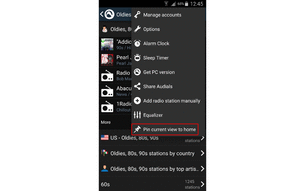 Have your favorite Genres at the Ready without searching for long
Because of the massive selection of genres that the Audials Radio app has on offer, it can sometimes be hard to keep track of everything and always find your favorite genre immediately.

First of all, click on "Radio" and navigate your way to a genre, country or artist that you like. Then click on the three dots (menu) in the top right and then on "Pin current view to home" at the very bottom.

Back at the home screen you will then have a direct view of this genre (or country/artist) and can access your favorite music in the fastest way possible.
Tip 3: Using the Alarm Clock and Sleep Timer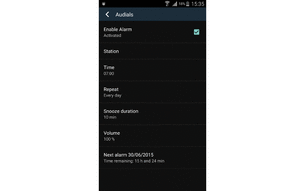 Wake up to Audials Radio … (Attention: only for Android™!)
With the Audials Radio alarm clock function, you can be woken up in the morning by the sound of your favorite radio station.

To use this function, click on the three dots (menu) in the top right and then on "Alarm Clock". You can now set your desired radio station, the time you want to be woken up at, the days this is active and also the duration of the snooze function.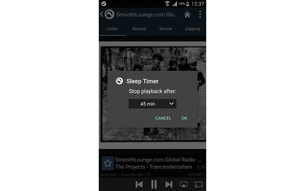 … and go to sleep
If you would like to listen to radio as you are falling asleep and have the radio to turn itself off after a certain amount of time, you can simply use the Audials Radio sleep timer.

To do this, click on the three dots (menu) in the top right of the app and then on "Sleep Timer". You can now set a duration of between 1 and 120 minutes after which the radio will be switched off.