Overview of the Audials newsletters in 2023
Audials tips: Perfect volume of voices in movies & audio editor in Audials 2023
Newsletter January 2023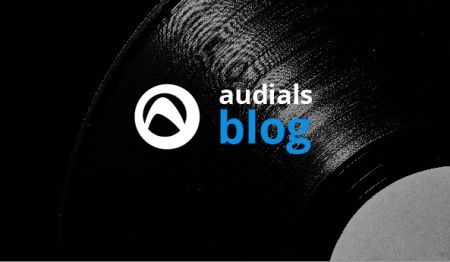 The November Audials newsletter showed you how to remove ads that have recently started appearing on certain video streaming services. You also got to know mass recording from the radio. Audials offers additional functions to optimize your recordings:
You've probably experienced that you can't hear the dialogue in a movie because the background noise is too loud. You can fix that with the Speech Boost of Audials One 2023.
Or do you want to cut a recorded song or export a section of it as a separate file? With the new audio editor in Audials 2023, this is easier than ever.
Our tip: How to optimize the volume of unintelligible movie dialogs
1. Open the video editor by clicking the video's pencil icon.


2. Go to the Video tab and click Speech Boost.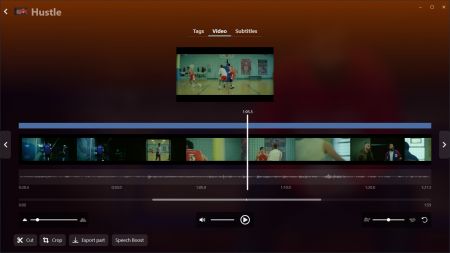 3. In the next window, select by what percentage the speech volume should be increased: 10, 25 or 50 percent. Audials then creates an additional audio track.
4. Save your changes by clicking the green Save audio button. Now choose whether you want to overwrite the existing file or create a new file with the additional audio track.
5. When playing the video, switch to the new audio track by clicking the eye icon.
Our tip: How to post-process audio
Similar to videos, there is also an editor for music recordings. You open it by clicking on the song's pencil icon. Now switch to the Audio tab.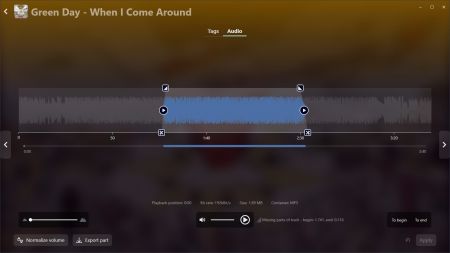 Cutting songs
In the editor, a part of the audio track is highlighted in blue. Drag the scissors along the audio track to where you want to cut the song. To check if the cut is in the right place, listen to the song.
You set a fade in or fade out by moving the triangle symbol.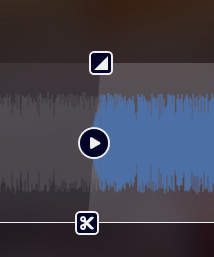 Exporting part of a song
In the audio editor, click Export part to save a portion of the song as a new file. A section is now marked in green. Change it by moving the scissors and/or the triangle. Click Export and save your changes.

Audials Tips: How to record video streaming with the batch recorder and how to edit music tags
Audials Newsletter February 2023
Audials 2023 makes it easy for you to build up a large music and video collection and to keep track of it. For example, we have shown you how to save subtitles or record music remotely, or how to adjust the speech volume in films and edit songs.
The current newsletter is about recording videos with the batch recorder, regardless of whether films, individual series episodes or entire seasons. With the integrated browser it is even more practical - without the annoying copying of the URLs.
Also, today we are going to take a look at the new handy music file tag editor that can be used to change song tags like title, year, genre.
Our tip: How to record video streaming with the batch recorder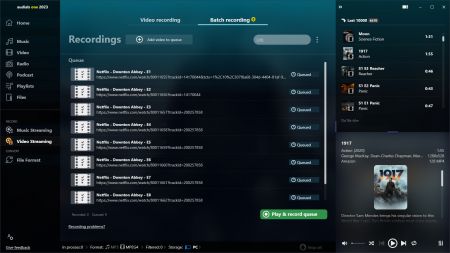 1. Select Video Streaming in the navigation.
2. Go to Batch recording on the top right and then click +Add video to queue.
3. Choose Netflix, Amazon Video or Disney+. If you haven't already done so, Audials will ask you to log in to the video streaming service with your login details. Now you can search the service in Audials for films, just like you used to do in the web browser.
4. Once you have found your video, play it briefly and click the green Queue button.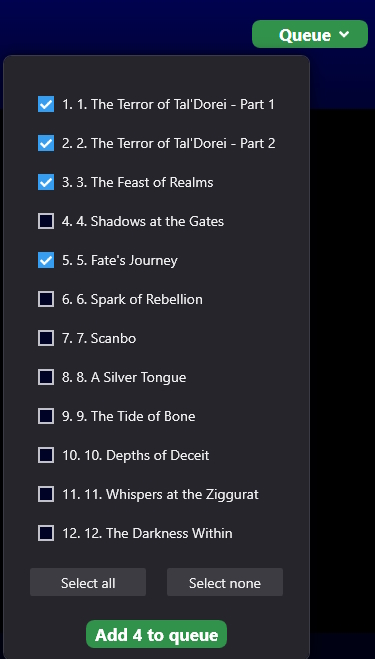 New! If it's a series, any series episode can be selected from the Queue drop-down menu.
5. Once you have added all the desired videos, click the Play and record queue button.
6. In the next window select the internal player.
7. As soon as you click the green Record button, the recording begins.
Our tip: How to edit music tags
In Audials 2023 you edit the tags of a song regardless of which Audials menu you are in. Hover over the song and click the pencil icon.

The audio editor opens. Now switch to the Tags tab. All information about the song can be edited there. If you change the genre, the song will automatically be assigned to the new genre.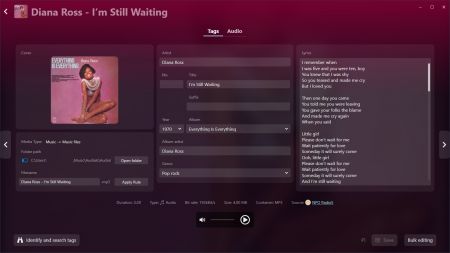 To change the next song, stay in the audio editor and click the < and > arrows. With Bulk editing you change the tags of many songs and save all your changes at the end.
Alternatively, edit the tags of all songs of a specific genre or artist at once. To do this, go to My Music and hover over a genre or an artist with your mouse pointer. Click the three-dot menu that appears and select Edit file. The audio editor will open for all songs in the selected category so that you can make your adjustments.
Audials Tips: Video Editor and Correct Tagging of Radio Recordings
Newsletter March 2023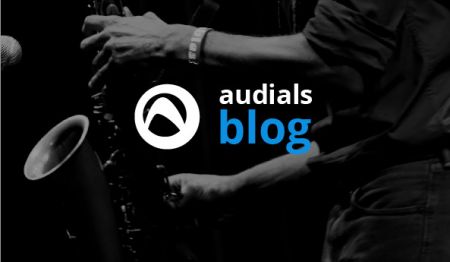 With Audials One 2023, you not only record streaming videos super easily, but thanks to automatic tagging and the video editor your video collection is organized. You get perfectly fitting subtitles and can edit the video. Today we will also show you how to ensure that your radio recordings are always well organized.
Our Tip: The Video Editor
The video editor in the current Audials One offers advanced functions for post-processing and optimizing recorded videos. To open the video editor, go to Video -> My Videos, alternatively it can also be opened from the player on the right in Audials. Hover over the video and click on the pencil icon that appears.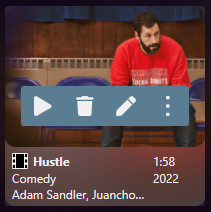 The video editor consists of three tabs: Tags, Video and Subtitles.
The Tags Tab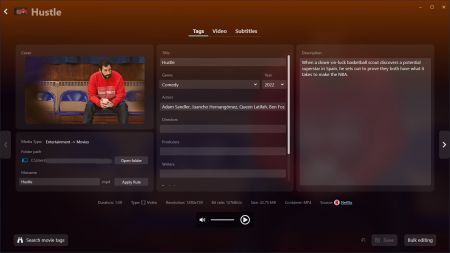 Here you can see all the information about the film, such as title, director, genre, description of the content, etc. Audials One automatically adds all of these tags to recordings from Netflix and Amazon Prime Video. All tags can be changed manually. By changing the genre, you can define on your own how you organize the videos.
The Video Tab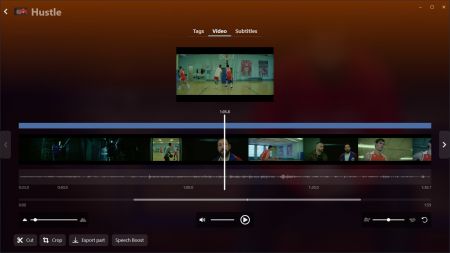 In the Video tab, the video can be cut and cropped. If you have the impression that what is being said in the video is too quiet and the background noise is too loud, you can correct this with Speech Boost. Export a part of a video as a separate file or remove ads from films and series recorded from Amazon Freevee or Paramount Plus.
The Subtitles Tab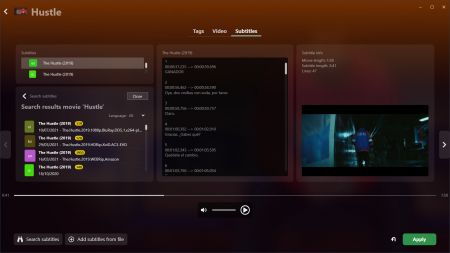 In this tab you search for subtitles in numerous languages. Several subtitles can be saved ​​per video and removed again at any time.
Audials One can also translate existing subtitles: Hover over the downloaded subtitles, click the binoculars icon and select your preferred language.
Our Tip: Correct Radio Recordings Tagging
Audials automatically adds the appropriate ID3 tags to music recordings from the radio, such as song name, artist, genre. Audials then sorts the music tracks by genre. If you know that you will be recording radio stations of a certain genre, you can enter it in Audials before you start recording. This ensures that your music collection doesn't get mixed up afterwards, because many songs can be assigned to several genres.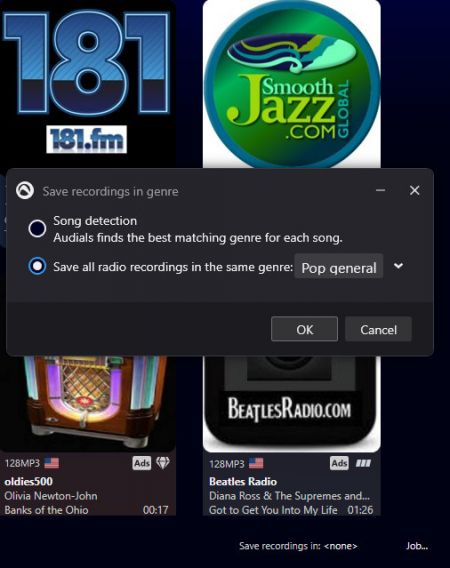 In Radio, click Save recordings in at the bottom and enter the genre. Start recording. Audials will assign all music tracks to the pre-defined genre.
Audials Tips: How to Record Video Streaming in the Integrated Player and Music from Streaming Websites
Newsletter April 2023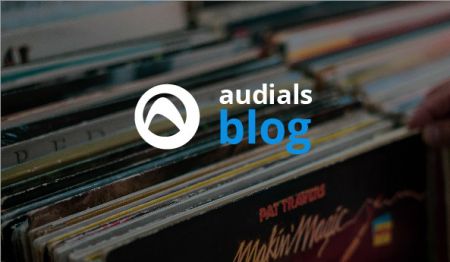 Have you already tried recording video streaming with the internal player? With Audials One 2023, you can record Netflix faster than ever using this method. Another new feature in the current Audials One concerns music recording: those who don't want to install a streaming service app on their PC can record from the streaming service's website.
Our tip: Record video streaming with Audials' integrated player
Audials One records movies and series from streaming services during playback. You can play videos not only from Chrome, Firefox, or Edge but also directly in Audials using the internal player.
It's enough to log in once with your streaming login details in Audials. After that, you can open Audials at any time, search for videos there, and start recording directly.
You can use your browser for other tasks during recording, which is not recommended when recording from the browser.
The internal player achieves a fourfold recording speed on Netflix, and double the speed in the browser.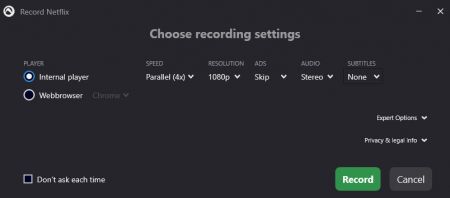 How do I use the internal player for recording?
Click on the service you want to record in Video Streaming, and a window with the recording settings will open. Activate the internal player. Check if all other settings are correct.
After clicking on Record, the streaming service will open. If you haven't logged in yet, Audials will ask for your login details. Activate the Remember me option. Afterward, you can search the streaming service in Audials for videos, just as you're already familiar with, and immediately start a recording.
You can delete your login data at any time in the options under Video Streaming Recording. There you'll find the option for Cookies, including logins you may have entered.
Our tip: Record music streaming from the website
We always want to give you multiple ways to achieve the perfect recording result. Therefore, for music, there's not only the option to record from the streaming service's app but also from its website.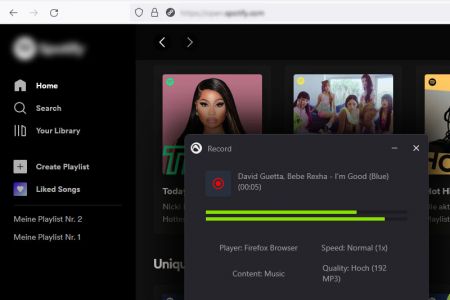 Website recording serves as an alternative if the app recording temporarily doesn't work. An advantage is that the streaming service app doesn't have to be installed. Moreover, recordings from the streaming service's website are not visible to the service.
Audials Tips: How to listen to, save and subscribe to podcasts and how to access video podcasts
Audials Newsletter May 2023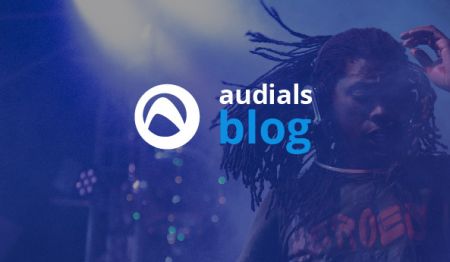 In this newsletter, we present to you the podcast features in the latest Audials One 2023. You can use the software to discover countless podcasts on a wide range of topics even more easily and comfortably. Listen to audio or video podcasts, download them, subscribe, and enjoy them.
Our tip: Listen to, save, and subscribe to audio podcasts
Discover audio podcasts on topics such as news, sports, technology, science, health, society, and many more! In the Podcast view, you can find new podcasts, listen to individual episodes, and save them. Favorite frequently listened-to podcasts to find them more quickly.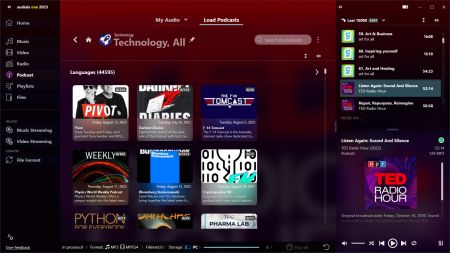 After clicking Subscribe and favor podcasts, Audials One will automatically save the latest episode on your PC.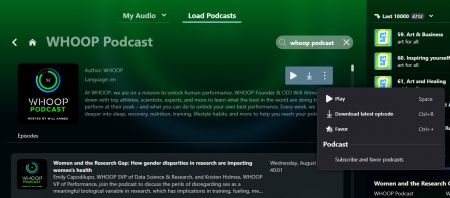 You can find all downloaded podcasts, sorted by date and with a content description, in the new sub-tab My Audio in the Podcast view. Do you want to get more episodes of a specific podcast? You can get them by clicking on Load more. Copy your audio files to other devices to listen to them there.
Are you interested in content in other languages? Then choose a second language for your podcasts, such as Spanish, Italian, German, or French.
Our tip: Watch, save, and subscribe to video podcasts
Under Video -> Video Podcasts, you can find, watch, and save new video podcasts similar to what was described above. Different languages and topics are available here as well. Subscribe to or favorite video podcasts that you find enjoyable to watch.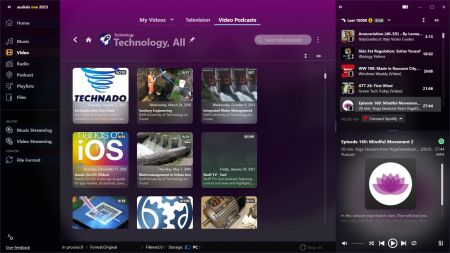 You can see all your saved video podcasts under Video -> My Videos.