An online radio app is a digital application that enables users to find and listen to radio stations from around the world via the internet. These apps often provide a wide range of stations, genres, and languages, catering to diverse musical tastes and interests. They are compatible with various devices. As there are dozens of online radio apps, we have searched for the best ones to present them here.
Audials Live online radio app
Listen to more than 100,000 radio stations and discover new music for free. A registration or installing software is not necessary.
Good to know: No copyright protection is circumvented

Radio streams that can be recorded with Audials do not use any effective protection against recording and output unencrypted audio e.g. on the PC's sound card.
Audials always only records such unencrypted audio data
. According to
US Copyright Law
"No action may be brought … alleging infringement of copyright based on … distribution … or based on the noncommercial use by a consumer of such a … digital audio recording device".
The Best Online Radio and Internet Radio Apps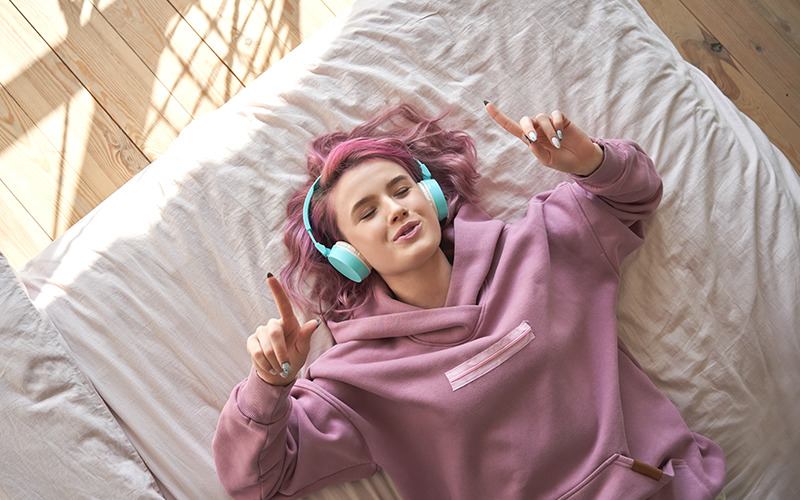 ---
1. Audials Live

Audials Live is a free online radio app with more than 100.000 radio stations from almost all countries and in all languages. Audials Live is ad-free, that means that it does not play own ads, except for the commercials that the radio stations themselves play.
Select one of the 18 genres, for example rock, pop, oldies, hip hop & R&B, latin, metal, jazz and more and dive into the world of music, optionally by selecting one of the 111 sub-genres, for example hard rock, britpop, smooth jazz, salsa. Get radio station suggestions and be up to date about current music hits. Audials Live marks stations that play ads with a flag.
Each radio station has an own view where you can see artists whose songs are often played and similar radio stations that play music of the same genre. You can favor radio stations that you often listen to if you register. The account can be used to access your favorites, for example, on your smartphone with the free Audials Play app on Windows, Android or iOS.
Besides radio, Audials Live gives you access to podcasts in any language that you can listen to and favor on all your devices.
What some people could dislike is that you cannot just select a genre, you need to select a sub-genre, too.
Pros
Ad-free radio app (except for ads played by radio stations themselves)
Listen to web radio for free without registration
18 genres and 111 sub-genres
Access online radio stations in any language you like and from any country you like
Favor radios
Stations that play ads are marked
Discover similar radio stations
See which artists are often played on radio station
Listen to podcasts
user interface in English, Spanish, French, or German
Cons
You need to select a sub-genre
2. AccuRadio
AccuRadio by AccuRadio, LLC in Chicago is a free online music streaming webapp. You can choose among 61 genres and sub-genres, for example rock, jazz, dance, blues, alternative, but also adult rock, alternative rock and many more. AccuRadio has a wide variety of genres so that everybody will find something. You can listen to music of a specific decade from the 50's to the 2010's. They also offer special categories like Hits (Top 40), Love Songs, Comedy and Holiday Music. What makes AccuRadio special is that it is not a radio app, but a music streaming service. How do you see that? When you play a channel, you will be able to skip songs.
You will have to accept that every time you play a channel, you will have to wait several seconds until the commercial has ended, then the music will start.
Pros
Listen to music for free without a registration
Large number of genres and sub-genres (61)
Favor channels
Cons
3. TuneIn
TuneIn offers a free web radio app that can be used to find, listen to and explore radio stations from all over the world. TuneIn has found an usual solution because they show you in the Radio section an interactive world map (explorer) where you can select countries and discover new radio stations. A registration is offered so that you can favor radio stations. To search for stations by keyword, you need to open the Search section. There the TuneIn web app does not show music genres, so if you are interested in a specific genre, you need to type it in the search.
If you search for some popular genres like pop or jazz in the map, you will not find anything.
In Music you will see most popular radios, a number of genres, local radios stations and popular radio stations. Furthermore, the free TuneIn web app has a Podcasts section where you will see most relevant podcasts in your country, but searching for podcasts is not possible.
TuneIn is available as an application for Windows, Android and iOS with more features.
Pros
Find and listen to radio stations for free
Interactive map where you can select stations by region and exlore new ones
Listen to a selection of podcasts
Available as an application for Windows, Android and iOS
Cons
No podcasts search in the web app
No genre sections, you need to type genres in the search
For some genres the map does not show any results
4. Online Radio Box
The Online Radio Box web radio app shows radio stations from all over the world. Search for specific stations, search by country or by genre. The online radio app has 11 genres, a section for artists and a further one for comedy, Christmas and other radios. The genres Pop music, Retro music, Rock music, Electronic music are divided into more specific subgenres. If you are interested in music hits, you will find the top 10 charts by country, genre or overall in the Music section. Favorite stations can be managed after registration.
If you open the page of a specific station, you will see all songs that previously were played on that day. Moreover, you can even check which album these songs belong to. So this online radio app simultaneously is a music data base. Online Radio Box is available as an application for Android and iOS.
Although you can see the previously played songs, you do not know which song is currently played. Furthermore, this web radio app shows ads.
Pros
Listen to online radio from all continents
Explore new radios by genre
Music hits for all genres and all countries
See previously played songs from that day
Favorite stations
Cons
Web app does not show the currently played song
Shows ads
5. Radio.net
With the internet radio web app Radio.net, you will find any radio station, no matter from which country. To make finding radios easy, they are sorted by music genre, country and state. Radio stations about politics, news, comedy etc. can be found under Topics.
Radio.net has a short description of all radio stations, provides links to the radio's website, offers to favor the station and to give it a rating.
The web radio app is available as an iOS and Android application that additionally gives access to podcasts.
What is not ideal from the user's point of view is that Radio.net shows ads. Some radio stations do not play or sometimes the currently played song is not shown.

Pros
Find and listen to radios from any country
18 music genres
Non-music radios are divided by topics
Cons
Shows many ads
Some radio stations do not play
In some cases, the currently played song is not shown
6. InternetRadio
With InternetRadio, a web app from the United Kingdom, you can listen to 12.480 radio stations, mainly in English language although some radios from other countries are available, too. On their start page they offer several dozens genres and topics, but any genre can be found by search, too.
Each radio station view shows the currently played song, related genres and the link to the website of the radio station.

The disadvantage of this web radio player is the low number stations and the fact that most of them are from United Kingdom. But if this content is what you are interested in, InternetRadio will be a good choice.
Please note that InternetRadio is not ad-free.
Pros
Listen to radio for free
Find and discover radio stations by country and genre
Cons
Only about 12.000 radios, mainly from United Kingdom
Not ad-free
7. Jango
Jango.com is an online radio website where you can search for artists or genres and suitable radio stations are shown that you can play right away. Jango shows a biography for each artist, his top songs, similar artists and further stations that play that artist. A special feature of Jango is shuffling radios: If you click "Shuffle Stations", you will be offered some radios that can be played by random. You can favor stations and they are stored in the browser.
Pros
listen to online radio for free without ads
discover music by related artists and related radios
shuffle radio stations
favor stations
Cons
Jango does not have podcasts
8. Audacy
The online radio app Audacy gives you access to approximately 500,000 radio stations that you can listen to for free and without a registration. Audacy also has podcasts in many languages. For each radio station, Audacy shows a song history and recommended content, for example featured shows, local stations, similar stations etc. With a free registration, you can favor radio stations and podcasts and access them on further devices.
What users might not like is that you need to search for specific genres, there is no genres list at the start page. And in the genre search results, not more than around a dozen of radio stations is shown. The web app is only available in English.
Pros
listen to web radio for free
listen to podcasts
favor stations
radio history
Cons
there is no genres list on the start page, you need to search for them
little search results for genres
no option to change the language of the app
The Best Web Apps for Online Radio
In this overview you see all internet radio apps presented on this page.
| | Audials Live | AccuRadio | TuneIn | Online Radio Box | Radio.net | InternetRadio | Jango | Audacy |
| --- | --- | --- | --- | --- | --- | --- | --- | --- |
| Ad-free | ✔ | not ad-free | ✔ | not ad-free | not ad-free | not ad-free | ✔ | ✔ |
| Number of radios | >100.000 | > 1400 channels | >100.000 | >65.000 | >60.000 | >12.000 | no info | >500.000 |
| Play radio | ✔ | ✔ | ✔ | ✔ | ✔ | ✔ | ✔ | ✔ |
| Play podcasts | ✔ | - | ✔ | ✔ | - | - | - | ✔ |
| Special feature | see related radio stations and artists | it is a free music streaming service, not a radio app | Explore radios in map | Previously played songs, albums | - | - | Shuffle radios | Radio history |
| Limitations | You need to select a sub-genre | - | Some genres not found in the explorer (map), no podcasts search | Does not show currently played song | some radio stations do not play | radios from UK mainly | - | No genres displayed; app only in English language |
Results: Audials Live is the Best Web Radio App
In comparison to many similar free online radio apps, Audials Live is ad-free. It shows a wide variety of radio stations and podcasts. When you listen to a radio station, the name of the artist and the song are shown. With Audials Live, you see which artists a radio stations often plays. Immerse yourself into the world of music and explore similar radio stations.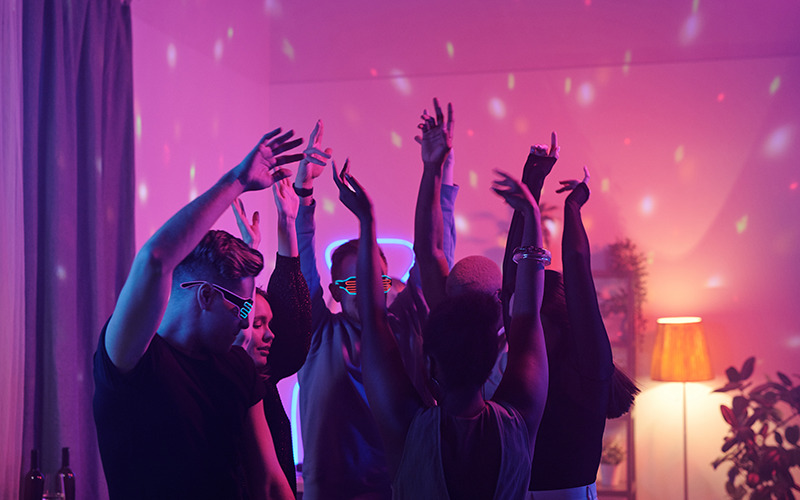 FAQ
How can you listen to radio for free?
You can listen to radio for free by installing a free radio app on your PC or smartphone. If you do not want to install a software application on your device, a good alternative will be a free web radio app. You can use it to find and to listen to music of your favorite genre on the web radio.
Which is the best internet radio app?
Audials Live is the best web radio app because it is ad-free and offers you a simple way to explore radios, artists, genres, podcasts and to listen to them on any device with an internet connection.
Please note
Music played by online radio stations is copyrighted. Any redistribution of it without the consent of the copyright owners may be a violation of the law in most countries, including the USA. Audials AG is not affiliated with the online radio stations, the music played by them, nor the company that owns the trademark rights to the online radio stations. This page is provided for compatibility purposes only, and in no case should be considered an endorsement of Audials Software products by any associated 3rd party.