How to record TV™ Streaming Videos & Movies
Description how to capture TV™ video streaming and save as MP4 for PC, Smartphone and Tablet
Learn with only 3 easy steps how you can screen capture and save HD Video Streams from TV™ (tv.com) to your PC.
Step 1: Install and start the TV™ Recorder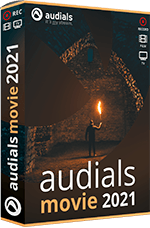 Download for free and without any registration the Windows software Audials Movie and install it. It´s easy to uninstall if not wanted. Start the Audials Movie Windows software and switch to the "Video Streaming" section. Select the profile with the desired video file format (e.g. MP4) from "Format" on the downside of your screen.
Step 2: Prepare Audials Movie for recording and start the TV™ movie or episode
Click on the tile with the title "TV.com". Open tv.com in your Chrome or Firefox browser and select the movie or episode that you want to record. The recording of the video stream will start directly when playing the video. Make sure the video is played in original size so that the best possible quality can be achieved. Your progress of the recording will be displayed in the control window.
Step 3: Audials Movie will record TV and the video will be ready for playback
When the recording of the video stream is complete the movie or episode will be transferred to the Audials playlist on the right side of your screen. The TV™ video streaming can be recorded and saved to your Windows Computer in the video file formats MP4, WMV, AVI, 3GP or others. The Audials Windows software will tag the file of the movie or the episode of a TV series afterwards. You can now play the video with Audials or drag and drop it into another application or Windows explorer to export it.
Record from almost any Video Streaming Service with Audials Movie
This streaming recorder has the advantage of preconfigured settings for recording and saving video from the most popular streaming platforms. All other video streams can be recorded with the program's three different streaming methods. Using the preconfigured recording settings, you can record and save videos from TV.com™ with ease.
Get Started Now Risk-Free with a Money Back Guarantee!
You can now use the best media software for retrieving and editing free entertainment on your computer at a low price. Don't miss out on this opportunity!
Audials Movie records Video Streaming from TV.com™!
Only Audials makes it that easy to record and download videos from the internet. This process is not just limited to TV.com, but can be used on countless other sources as well. Audials lets you download your video entertainment from your choice of websites. After downloading your videos, films and series, you can watch them on your computer right away, convert the files into any desired format and/or transfer them to your portable devices (Android Smartphone, Tablet, iPhone, iPad, Xbox, PSP, PDA, etc.), so that you can enjoy your media away from home.
About TV.com™
TV.com™ is where TV lives online! Watch your favorite shows, talk to other fans, read all the behind-the-scenes news, and just generally revel in the most up-to-date and complete TV site anywhere. You can roam around at leisure, but for an extra-good time you should register. Registration allows you to write reviews, participate in lively discussions, and contribute to show, episode and person guides.
Please note
Videos from TV.com are copyrighted. Any redistribution of them without the consent of the copyright owners may be a violation of the law in most countries, including the USA. Audials AG is not affiliated with TV.com, nor the company that owns the trademark rights to TV.com. This page is provided for compatibility purposes only, and in no case should be considered an endorsement of Audials Software products by any associated 3rd party.