Audials News
Get the latest news and find out what makes Audials Software so popular
New! Audials Newsletter November 2021
Audials One 2022 makes it easier than ever for you to find new music, films and series and to record them in excellent quality. We will show you two more functions: Learn how to add subtitles to your videos in any language and delete duplicate music files quickly and easily.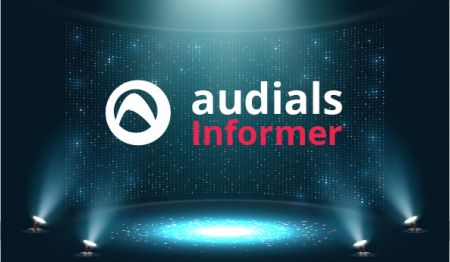 How-to: Adding subtitles after video recording
After recording a video, you can add subtitles to the video in Audials 2022. For this purpose it has a built-in subtitles search engine. It finds subtitles in any language. You can decide whether they will be displayed while the video is played back. If you do not need them anymore, you can easily delete them.
It will be necessary to set your preferred languages so that Audials will find subtitles in the language you need.

How to set the default subtitles language(s)
1. Click the gear icon in the lower left corner of Audials.
2. Select the Video Streaming Recording menu item.
3. Click +Add to set all preferred subtitles languages.

Adding subtitles to a video:
1. Open the context menu of a video in the Audials player and click Search Subtitles.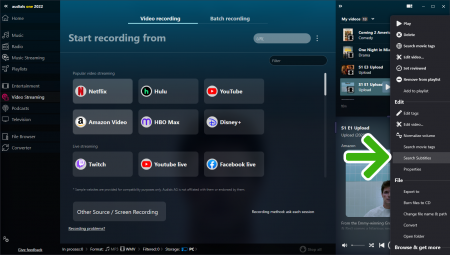 2. The subtitles search engine opens. Click Search.
3. If available, the subtitles in all your preferred languages will be displayed.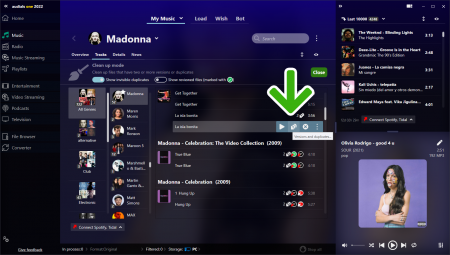 4. Downlad the desired subtitles. If you do not need them someday, you will be able to remove them.
5. To show the subtitles in the video, click the eye icon in the right left corner of Audials and activate them.
How-to: Finding & deleting duplicates fast
It can happen that you have accidentally recorded certain songs more than once. With the duplicate management in Audials, you can tidy up your music quickly and easily.
1. Open the Music menu item in Audials.
2. Switch to the My Music tab. Now you can see all the music that is stored on your PC.
3. Choose a genre, an artist or All Artists to tidy up your music.
4. Click the context menu besides the search bar and select Clean up versions and duplicates.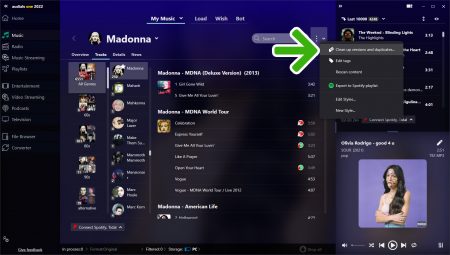 5. Now Audials shows all duplicate files.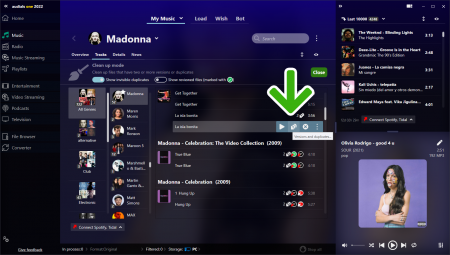 If you hover your mouse over the song title, you will see the Versions and duplicates icon. If you want to make sure that you delete the version in the correct location, click this icon. This is how you can see the storage location - whether PC, cloud or mobile devices.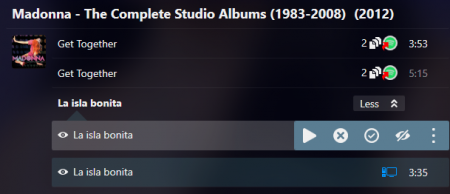 6. Delete all the songs you don't need by clicking the X icon.
7. Click the green Close button to exit the duplicate mode.
Missed a newsletter?
Audials News
THIS ARTICLE