Audials News
Get the latest news and find out what makes Audials Software so popular
Audials Tips: How to record Music Streaming Directly in Audials and Make Videos Appear Smoother
Audials Newsletter October 2023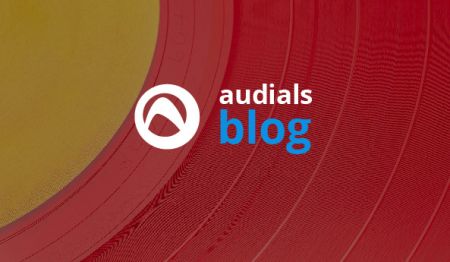 We wish you a lot of joy with the Audials 2024 software and would like to introduce you to two of the new features in this newsletter: Today, we will show you how to make videos smoother and access music platforms directly in Audials.
Our Tip: Use Soundcloud & Co. Directly in Audials
You can access content on music platforms like Soundcloud and Vimeo directly in Audials One. Choose the music that interests you and save it right away.
Step 1: Open Music Streaming and click on the desired streaming platform.

Step 2: In the recording settings, choose Play in Website. The music platform will open in Audials.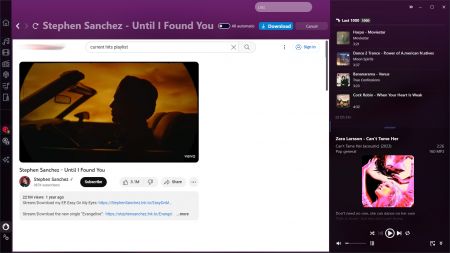 Step 3: Now, select the music pieces that interest you and save them to your PC by clicking the saving button.
Tip: If you activate All automatic, Audials will save all the music you play.
You can find the saved music pieces in the top right corner of Audials or under Music
-> My Music.
For some platforms, login may be required or optional. You can delete logins and cookies in the settings under Music Streaming Recording.
Our Tip: Make Videos Smoother
Audials One 2024 Ultra opens up unprecedented possibilities for enhancing existing videos using Artificial Intelligence. One of these options is to make movements in movies appear smoother. Audials One Ultra achieves this by calculating missing frames and inserting them into the video. This increases the frame rate, and fast movements like explosions, chases, and action scenes in action movies are experienced with unique smoothness, without stuttering.
Step 1: Start Audials One Ultra and go to the Improve Media menu.
Step 2: Drag a video into the center of Audials with the mouse pointer, for example, from Windows Explorer. If you have just recorded a video, it will be displayed in the top right corner of Audials, and you can drag it over as well.
Step 3: Choose Insert Frames. A view will appear where you can select all settings for frame optimization: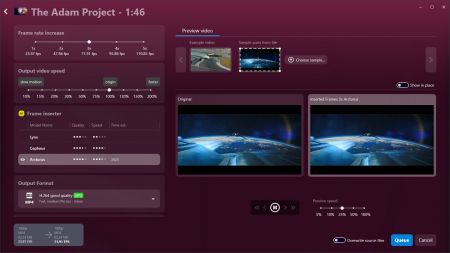 How much should the frame rate be increased?
Which AI model will you use? For example, the fast and powerful Cepheus? Or the especially strong Arcturus, which takes longer but delivers the best results?
Optionally, you can speed up the video or turn it into a buttery smooth slow motion.
Audials One 2024 Ultra will show you a brief preview and calculate how long the process will take.
Step 4: Once all settings are correct, add the video to the queue. If you want to enhance more videos with AI, you can easily add them to the queue. Start the queue, and Audials One 2024 Ultra will enhance the videos.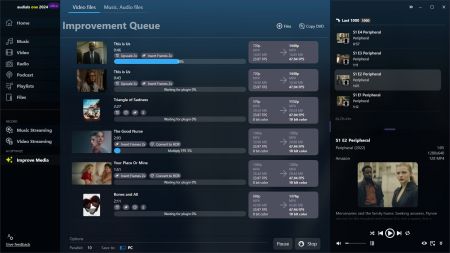 The process can be paused and resumed at any time, even after restarting or turning off the computer. The improved video versions are saved on your PC. You can find them under Video -> My Videos. All versions of a video are grouped under the same cover image.
You missed the newsletter?
Audials News
THIS ARTICLE