Tiktok downloader - How to screen record Tiktok videos on Windows, Android, iOS
Created on: September 15th 2021
People enjoy watching funny videos on Tiktok. But what if you need to save a Tiktok video on your PC to watch it again and again? Then you will need a software like Audials Movie that will do the job of a Tiktok downloader by recording the videos from your PC screen. In this article we will show you how to easily record video content from the popular video streaming platform.
Important: DMCA 1201
The US Copyright Act (DMCA) stipulates in Article 1201 that no "effective protection" of copyright-protected content may be circumvented.
The tool "Audials Movie" presented here fulfills these requirements by exclusively accessing unencrypted images of the video being played using "Screen Recording" technology.
Contents that are only played by the streaming provider with effective DRM protection against recording - this is sometimes the case, for example, for videos in the highest resolution levels - can therefore not be saved with it.
Audials Movie is the ideal screen recorder to get video streaming content as an MP4, AVI, WMV or 3GP file. It offers you very useful features:
Internal player and recorder: You can browse through TikTok in Audials Movie and immediately record the videos you like.
Convert your videos in the required format with the built-in video converter.
Transfer your videos to other (mobile) devices or the cloud.
Video cutter and cropper to remove anything you do not need in the video.
How to record Tiktok on a Windows PC with Audials Movie
Step 1: Install and start the Tiktok recorder "Audials Movie"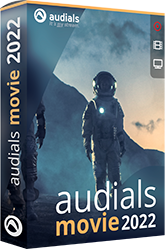 Download for free and without any registration the Tiktok recorder "Audials Movie" and install it. It is easy to uninstall if not wanted.
Start the Audials Movie software and switch to the "Video Streaming" section. Select the profile with the desired video file format (f. e. MP4) from "Format" on the downside of your screen.
Step 2: Prepare the screen recording in Audials Movie
Click the TikTok tile in Audials Movie. In the window that opens, you will be able to choose a recording method.
Browse & load in Audials: The internal player and recorder is the most comfortable way to browse and record content. With this method, you can search for videos directly in Audials. Entering your Tiktok credentials into Audials will be necessary.
Other recording options: If you do not want to browse in Audials, you can record content from your Chrome, Firefox or Edge browser.
Depending on the option you have chosen, follow the instructions that will be given.
Make sure the video is played in original size so that the best possible quality can be achieved.
Step 3: Audials Movie will screen record Tiktok and save it as a video file to your PC
When the recording of the video stream is complete the video file will be transferred to the Audials playlist on the right side of your screen.
The Tiktok video streaming can be recorded and saved to your Windows Computer in the video file formats MP4, WMV, AVI, 3GP or others. You can now play the video with Audials or drag and drop it into another application or Windows explorer to export it.
Further ways to record TikTok
Using an online "TikTok downloader"
There are lots of so-called online "TikTok downloaders" that want to attract users with a simple way to save Tiktok videos: They say that you do not need to install TikTok recorder software. Instead, you just need to enter the URL of the desired video into the online Tiktok downloader and you will get it as a file. However, you do not know how these files are generated, so it is better to avoid using online TikTok downloaders like the following:
Using a different TikTok screen recorder than Audials Movie:
EaseUS RecExperts
EaseUS RecExperts is a universal screen recorder that you can use to screen record videos from TikTok. Just choose the area of the screen you want to record and the audio source. Then hit the REC button. To stop screen recording hit the button again. Instead of starting and recording manually, you can configure a task or start manually and preset when the recording sould be stopped.
Acethinker Screen Grabber Premium
Acethinker Screen Grabber Premium is a further tool to screen record any video content you play back on your PC. The screen recording is as easy as in the previous tool.
Screen record TikTok on iPhone
iOS 11 and the following releases support screen recording. The only thing you have to do is adding the screen recording feature to the control center. Then you will be able to start screen recording anytime. Once you have found a video you want to screen record, open the control center and tap the record button. The video will be recorded. Stop recording when the video has ended.
Screen record TikTok on Android
Many TikTok screen recorders are available for Android mobile devices. They all work similarly: If you have found an interesting video, tap the record button and wait until the video ends. Then stop recording by tapping the button again. Examples of screen recorders for Android:
However, a screen recorder for mobile devices is not really necessary because you can record your videos on your PC with Audials Movie and then transfer them to other devices.
Comparison of the best TikTok screen recorders
Audials

Movie

EaseUs RecExperts
AceThinker
Recording from Screen
✔

✔

✔
Internal player and recorder
✔
-
-
Video converter
✔

-

-
Video cutter
✔
✔
-
Video cropper
✔
-
-
Smartphone & Cloud Media Manager
✔
-
-
Price
$29,90
$69,95*
$29,95**
Summary
If you know that you often need to screen record TikTok videos, it is best to use a recording software. Among all screen recording tools, Audials Movie has the most powerful features and makes screen recording comfortable and easy.
Try the Audials Movie demo for free
FAQ about how to screen record TikTok
Can I download a video directly from TikTok?
Yes, you will be able to do this if the video has a download button. However, in other cases you will need a TikTok screen recorder.
How can I screen record TikTok?
Install and launch Audials Movie. Open the Video Streaming section and click the TikTok tile. Play back your TikTok video and Audials Movie will record and save it as a video file to your PC.
How does Audials Movie work?
Audials Movie is a screen recorder tool and can be compared to a camera that films everything shown on your screen. Like this, you obtain a video file for personal use. Copy protection is NOT circumvented. Please read our legal information to learn more.
Where do I get support for Audials Movie?
If you need help with Audials software, please visit our support page and submit a support request.
Please note
Videos from Tiktok™ are copyrighted. Any redistribution of them without the consent of the copyright owners may be a violation of the law in most countries, including the USA. Audials AG is not affiliated with Tiktok™, nor the company that owns the trademark rights to Tiktok™. This page is provided for compatibility purposes only, and in no case should be considered an endorsement of Audials Software products by any associated 3rd party.