How to record Amazon Prime on PC, Mac, iPhone, Android
Last updated: January 24th 2022
Amazon Prime Video is one of the most popular streaming services in the world that offers a variety of movies, series, and documentaries. But there is one problem: You have no guarantee that your favorite videos always will be available. The only you thing you can do is to record the content as MP4 files with an Amazon Prime Converter, then you will be able to watch Prime offline.
Audials Movie has a unique combination of features that makes it very practical for video streaming fans:
record video streaming from Amazon Prime video at 2x speed
automatically get the DVD cover and the video tags (name of the movie/series, actors, genre, director, description)
record several movies at once with the batch recording
play back an entire season and record it overnight
the media manager sorts the videos automatically according to their genre

Learn here how to record Amazon Prime Video in three steps.
Important: DMCA 1201
The US Copyright Act (DMCA) stipulates in Article 1201 that no "effective protection" of copyright-protected content may be circumvented.
The tool "Audials Movie" presented here fulfills these requirements by exclusively accessing unencrypted images of the video being played using "Screen Recording" technology.
Contents that are only played by the streaming provider with effective DRM protection against recording - this is sometimes the case, for example, for videos in the highest resolution levels - can therefore not be saved with it.
record Amazon Prime Video on a Windows 10 PC
Audials Movie is a powerful Amazon Prime converter tool that can record the videos and save them in the format you need.
Step 1: Install and start the Amazon Prime Video recorder ,,Audials Movie"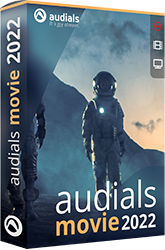 Download the Windows software "Audials Movie" and install it. It is free and a registration is not necessary. It´s easy to uninstall if not wanted. Start Audials Movie Windows software and switch to the "Video Streaming" section.
Choose the output format in Audials Movie by clicking "Format" on the downside of your screen.
Step 2: Play back the video in Amazon Prime Video
Click the "Amazon Video" tile in Audials Movie. If you want to save time, you can set a 2x recording speed in the small window that will open.
Open amazon.com in your Chrome or Firefox browser and select the movie or episode that you want to record.

The recording of the video stream will start directly when playing the video. Make sure the video is played in original size so that the best possible quality can be achieved. Your progress of the recording will be displayed in the control window.
Step 3: Audials Movie will automatically record Amazon Prime
When the recording of the video stream is complete the video will be transferred to the Audials playlist on the right side of your screen. The Amazon Video streaming can be recorded and saved in the video file formats MP4, WMV, AVI, 3GP or others. The Audials Windows software will tag the file afterwards. You can now play the video with Audials or drag and drop it into another application or Windows explorer to export it.
Audials Movie is an excellent tool for recording streams
Audials Movie has won many tests, is recommended by computer magazines and is therefore beloved by millions of users around the globe. Furthermore, Audials software provides its users with a high degree of convenience and additional functions at no extra charge. Get on board today!
If you are not happy with Audials Movie, you will receive a full refund within 14 days.
The best Amazon Prime Video recorders for Windows
Here you can directly compare the best tools to record Prime:
Audials

Movie

iTop Screen Recorder
PlayOn
Recording speed

2x

1x

1x

1x

1x

Batch recording
✔
-

-

-
-
Amazon Prime credentials required
-
-
-
-
-
Best frame rate automatically
✔
-
-
-
-
Price
$29,90
$47,99 (yearly)
$69,95
$39,95
$39,99 (yearly)
How to record Amazon Prime for Android
Perhaps you are interested in watching Amazon videos on your Android device. Just follow these steps:
Step 1: Record Amazon Prime with Audials Movie as described on this page.
Step 2: Click "Storage: PC" on the bottom auf Audials Movie, then click the + icon to add your device and then choose "Android Smartphone, Tablet...".
Step 3: A new dialog will open where you will be asked to connect the Android device via USB and to select it.
Step 4: Follow the instructions to transfer the video to your Android device.
How to record Amazon PRIME Video for iPhone
Step 1: On your Windows PC, use the Amazon Prime converter "Audials Movie", and record the movie or episode as described above.
Step 2: Right-click onto the video file, call "Export to > iTunes".
Step 3: Connect your iPhone or iPad via a cable.
Step 4: Use iTunes to copy the video file onto your iPhone.
How to record Prime Video on Mac
Here it is described how you can use Audials Movie on Mac with Parallels.
Using the download feature of Amazon Video
Alternatively, you can download content directly from Amazon Prime Video to watch it offline. However, there are some restrictions:
The Prime Video app has to be installed to your device
Downloads to PCs and laptops are not allowed
You will be able to watch some content for a limited period
If you cancel your subscription, you will not be able to watch the downloaded content anymore
Watch the best series and movies with Amazon Video
With Amazon, you have access to the best movies and series in HD like Fleabag, Undone, Sneaky Pete, Vikings, The Boys, The Marvelous Mrs. Maisel, Upload, Community, The Expanse, One Night in Miami, Knives Out, Rocketman, The Avengers, Midsommar, Bumblebee, and many others.
We recommend you to record Amazon Video shows you really like because you cannot be sure whether they will be available in the future.
About Amazon Video™
Jeff Bezos founded the company, that initially sold books, in 1994. Amazon increased the amount of offered products and media gradually.
Consumers could be confused by the names of the Amazon streaming service. In 2015, Amazon Instant Video was named Amazon Video and Prime Instant Video was named Prime Video. In 2018, Amazon united Amazon Video and Prime Video, so there remains one service, Prime Video. As the name Amazon Video is still used in our software, it is also used in this instructions.
Technical requirements for Amazon Video
Computer: Windows 7/ Mac OS 10.7 or newer
Browser: Chrome version 59/ Firefox version 53 or newer
You will get further information on the Amazon website.
FAQs about how to record Amazon Prime Video
1. Can you record Amazon Prime Video?
Yes, you can record Amazon Prime Video to MP4 on your PC with a screen recorder software.
2. How can I record Amazon Prime Video?
To record Amazon Prime Video, install Audials Movie and launch it. Choose the recording format on the bottom of Audials Movie. Then click the Video Streaming menu item. Click the Amazon Video tile and play back the video on Amazon Prime Video.
3. Can I download videos from Amazon Prime to my device?
Yes, Amazon Prime offers the download feature, but there are some restrictions: You have to install the Amazon Prime Video app to be able to download videos. It is not allowed to download movies and other content to PCs and laptops. Furthermore, these downloads are not permanent, it means that they will expire.
4. Where do I get information about the best current movies streamed on Amazon Prime Video?
You will get information about the best current movies and series, but also music hits and much more on our blog pages.

Please note
Videos from Amazon Video™ are copyrighted. Any redistribution of them without the consent of the copyright owners may be a violation of the law in most countries, including the USA. Audials AG is not affiliated with Amazon Video™, nor the company that owns the trademark rights to Amazon Video™. This page is provided for compatibility purposes only, and in no case should be considered an endorsement of Audials Software products by any associated 3rd party.