What Can I Do Here?
Example: Record a video from Amazon Prime Video
1. Launch Audials and select the desired video format in Format, for example MPEG4.


2. Open the Video Streaming view and click Amazon Video.


3. Select a web browser (Chrome, Firefox or Edge) in the next window. If needed, activate the subtitles and the high speed recording.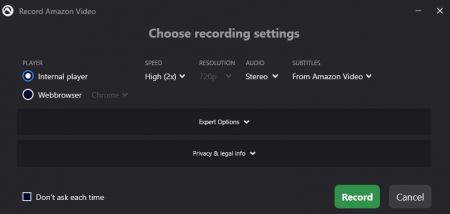 4. Play a video on amazon.com. Audials will detect and record it automatically.
You will see the recorded video in Video -> My Videos.
How to record different streaming services
Click the corresponding streaming service and follow the instructions of Audials. Depending on the streaming service, various recording settings are available.
Your streaming service is not available as a recording tile?
Start recording by clicking Other Source / Screen Recording.
IMPORTANT QUESTIONS AND TIPS
What is the internal player?
As an alternative to recording from the web browser, you can also record most video streaming services directly in Audials with the internal (integrated) player. The advantage of this is that you don't have to log in to the browser every time you record. To do this, you need to log into Audials once with your Netflix login data and activate Remember me. You can delete the cookies stored in Audials at any time. To do this, open the settings at the bottom left of Audials, select Video Streaming Recording and under Cookies, including logins you may have entered, click Delete all.
How can I record seasons of series?
Amazon Prime Video
Set the automatic play in the streaming service before you record:
1. Open the settings in your Amazon Video account and click on Playback.
2. At Auto Play, click On.

Please note: Amazon's autoplay feature is only available in browsers that support the HTML5 player, such as Chrome.

Netflix
Open Manage profiles, select a profile and activate Autoplay next episode in a series on all devices.
Then proceed in Audials as described using the example of Amazon Video.
Which streaming services can be recorded with Audials in the US?
You can easily screen record videos by clicking the tile of the corresponding streaming service. The easy screen recording is preconfigured for the following streaming services:
Amazon FreeVee, Amazon Prime Video, Apple TV+, Disney+, ESPN, HBO Max, Hulu, Netflix, Paramount+, Peacock, TikTok, Twitch and more.
Additional services can be added or (less frequently) removed at any time. The availablility of these providers varies in other countries.
To record other sources, click Other Source / Screen Recording.
How can I upscale a HD video to 4K?
You can do it with an AI video enhancer software that adds the missing pixels using artificial intelligence.