All file formats for PC & mobile devices. Say goodbye to problems with file formats!
Good to know: No copyright protection is circumvented

Music Streaming Services that can be recorded with Audials do not use any effective protection against recording and output unencrypted audio e.g. on the PC's sound card.
Audials always only records such unencrypted audio data
. According to
US Copyright Law
"No action may be brought … alleging infringement of copyright based on … distribution … or based on the noncommercial use by a consumer of such a … digital audio recording device".
Audials Music is your universal converter for audio files
MP3 is the right file format for your PC, MP3 players, iPod and cell phones. You can enjoy MP3 songs on all your mobile devices. Audials is your MP3 converter and converts nearly all file formats to MP3 files. Your MP3 songs can be played back at your PC, MP3 player, cell phone, Apple iPhone or Apple iPod.
The audio converter for any problem and device
Audials assists you in dealing with aggrevating file-formatting problems associated with your music and audiobook files. Furthermore, Audials reliably solves file formatting-issues arising from converting audio files via the "PerfectAudio" quality guarantee.
Audials is the solution you need, if you are having difficulties playing your music or audiobooks on your playback devices. Audials simply converts all the audio files for you and in the highest possible quality. Audials lets you conveniently convert FLAC into MP3 and then use these freshly converted files on your portable devices.
Thanks to its many features and options, Audials has proven to be a very useful tool for users, as indicated by its success and popularity around the world. The Audials software engineers have included numerous functions and settings, so that you are able to use Audials to quickly and automatically tackle any task without requiring a PhD. This also includes allocating file formats that can be converted for the most popular portable devices. With Audials, you can simply select your cell phone or multi media player from a list of manufacturers and Audials then finds the right settings automatically. It's like taking candy from a baby!
Audials Music for Windows 11 and 10
Download free demo. Get to know Audials and its possibilities. If you aren't pleased, you can uninstall the software without a trace.
Instruction for converting FLAC to MP3
---
1. Install Audials Music and launch it.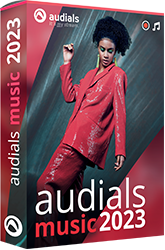 Start Audials and switch to the File Format view.
2. Add the files that you want to convert.
Click the +Files button and choose the Add files option from the drop down menu. Select the files you want to convert. They will now be added to the list in the File format view. As an alternative, you can always drag and drop files to the view.
3. Choose the desired output format.
Select MP3, one of the other available audio file formats or click Other or custom to see profiles for specific devices.
4. Start the conversion.
Once the output format is configured, click the "Start" button. The progress will be displayed in the File Format view, next to the files.
The converted files will show up in the Audials player on the right side of your screen after the conversion is complete. You can now play the files with Audials or drag and drop them into another application or Windows Explorer to export them.
About FLAC
---
FLAC (Free Lossless Audio Codec) is an open source lossless audio codec that supports streaming, seeking and archival.

By encoding audio files with FLAC, the quality is exactly the same as the original audio file's quality is. This is exactly unlike the audio formats such as MP3 and WMA work. These audio formats are called "lossy" and that means that when the original audio is encoded into the lossy audio format, some of the audio data is lost forever and can't be brought back by any means.
About MP3
---
MP3 (MPEG-1 Audio Layer 3) is a format for compressing audio only defined in both MPEG-1 and MPEG-2.
MP3 is a popular compression format used for audio files on computers and portable devices. It is a method to store good quality audio into small files by using psychoacoustics in order to get rid of the data from the audio that most of the humans can't hear.

MP3's bitrates vary from 8kbps to 320kbps. A typical MP3 file encoded at 128kbps is near CD quality. MP3 audio is increasingly being used in video production coupled with various MPEG4 video codecs like divx.
Get Started Now Risk-Free with a Money Back Guarantee!
You can now use the best media software for retrieving and editing free entertainment at a low price. Don't miss this opportunity!