How to record Pandora
Learn here how you can record music from Pandora for your personal use.
Good to know: No copyright protection is circumvented

Radio streams that can be recorded with Audials do not use any effective protection against recording and output unencrypted audio e.g. on the PC's sound card.
Audials always only records such unencrypted audio data
.
According to
US Copyright Law
"No action may be brought … alleging infringement of copyright based on … distribution … or based on the noncommercial use by a consumer of such a … digital audio recording device".
Step 1: Install and start the Pandora recorder "Audials Music"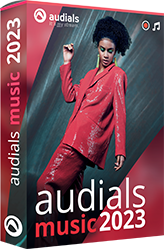 Download for free the Windows software Audials Music and install it. A registration is not necessary. Start Audials Music and switch to "Music Streaming". Select e.g. MP3 as the desired audio file format from "Format" on the downside of your screen.
Step 2: Play back the song in the Pandora app
In Audials Music, you should see a menu with tiles like in the picture. Click on the "Pandora" tile. Then go to Pandora and play back the music that you would like to capture.
Step 3: Audials Music automatically will save the Pandora music
The Pandora audio streaming is automatically recorded and the music saved as single MP3 files. That´s it!
Audials Music is an all-rounder
Record Audio Streaming from Pandora with Audials Music! Only Audials Music makes it that easy to record music from the internet. This process is not just limited to Pandora, but can be used on countless other sources as well. Audials lets you record your music entertainment from your choice of websites. After recording your music, you can listen to it on your computer right away, convert the files into any desired format and/or transfer them to your portable devices (Android Smartphone, Tablet, iPhone, iPad, Xbox, PSP, PDA, etc.), so that you can enjoy your media away from home.
For its core functions Audials software has received accolades regularly from trade publications and is therefore beloved by millions of users around the globe. Furthermore, Audials software provides its users with a high degree of convenience and additional functions at no extra charge. Get on board today!
About Pandora™
Since Pandora started back in 2000, they have been hard at work on the Music Genome Project. It's the most comprehensive analysis of music ever undertaken. Together a team of fifty musician-analysts has been listening to music, one song at a time, studying and collecting literally hundreds of musical details on every song. It takes 20-30 minutes per song to capture all of the little details that give each recording its magical sound - melody, harmony, instrumentation, rhythm, vocals, lyrics ... and more - close to 400 attributes! Pandora continues this work every day to keep up with the incredible flow of great new music coming from studios, stadiums and garages around the country.

With Pandora you can explore this vast trove of music to your heart's content. Just drop the name of one of your favorite songs or artists into Pandora and let the Genome Project go. It will quickly scan its entire world of analyzed music, almost a century of popular recordings - new and old, well known and completely obscure - to find songs with interesting musical similarities to your choice. Then sit back and enjoy as it creates a listening experience full of current and soon-to-be favorite songs for you.

You can create up to 100 unique "stations." And you can even refine them. If it's not quite right you can tell it so and it will get better for you.
Do you have problems with Audials Music?
Please note
Music from Pandora.com is copyrighted. Any redistribution of it without the consent of the copyright owners may be a violation of the law in most countries, including the USA. Audials AG is not affiliated with Pandora™, nor the company that owns the trademark rights to Pandora™. This page is provided for compatibility purposes only, and in no case should be considered an endorsement of Audials Software products by any associated 3rd party.