SoundCloud downloader - How you can record SoundCloud to MP3
SoundCloud is a popular music platform where you can explore playlists, listen to or upload songs that can be recorded with the Soundcloud app.
But what if you love to listen to Soundcloud and just want to have your favorite songs as MP3 files on your PC? Then you will need a software that does the job of a SoundCloud downloader by recording music from the sound card.
Good to know: No copyright protection is circumvented

Music Streaming Services that can be recorded with Audials do not use any effective protection against recording and output unencrypted audio e.g. on the PC's sound card.
Audials always only records such unencrypted audio data
.
According to
US Copyright Law
"No action may be brought … alleging infringement of copyright based on … distribution … or based on the noncommercial use by a consumer of such a … digital audio recording device".
How to record SoundCloud to MP3 with the SoundCloud recorder "Audials Music" on A Windows 10 PC
In this article you will learn how you can record SoundCloud songs to your Windows PC if you are a SoundCloud fan who just needs to record from this streaming service for offline listening.
Step 1: Download, install and open the SoundCloud recorder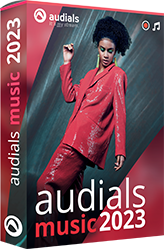 Download and start Audials Music. Switch to the Music Streaming view.
Step 2: Play back the music in SoundCloud
Click on the SoundCloud tile. Then open soundcloud.com in your Chrome, Firefox or Edge browser and play back the music that you would like to record and save.
Step 3: Audials Music will record SoundCloud to MP3
The SoundCloud music streaming is automatically recorded and the music saved as single MP3 files, perfectly tagged and in highest audio quality. That's it!
What is the SoundCloud recorder doing exactly?
The SoundCloud audio streaming is automatically recorded, separated into individual files, converted into your preferred file format like MP3, WMA, AAC or others and tagged with ID3 tags, album cover and song text. The completed files are then displayed in the Audials player on your right. You can now play the files with Audials or drag & drop them into another application or Windows Explorer to export them.
Is there another way to record SoundCloud with Audials Music?
Yes, there is another way. You have just learned how to record from SoundCloud by playing back the music. Maybe you want to complete your music collection and add some single songs. In this case, you can also use the following recording method that does not require to play back the music:
Step 1: Start Audials Music
Open Audials Music and switch to the Music section. Now open the Load tab.
Step 2: Activate the filter bar
If you do not see the orange SoundCloud icon in Audials Music, choose this streaming service in the dropdown menu. You can deactivate all other streaming services, if you like.
Step 3: Search for music
Now type your search terms in the search bar. Audials Music will find almost anything you need. You can search for artists, songs or albums.
Step 4: Save the desired music as MP3 to your PC
Once you have found what you were looking for, you can save it to your computer. Click the context menu of a single song or an album to record the audio track.
Which further features does Audials Music offer?
Audials Music enables you to record albums, playlists and single songs from various streaming services
With the built-in converter you can convert the audio files to play them back on iOS, Android and further devices
The powerful music manager can rename and retag your songs fast even if you have half a million of music pieces on your hard disk
You can choose in which folder Audials Music will save the music and whether it will be sorted by year, album, etc.
Create your own playlists
Compare Audials Music to other SoundCloud recorders
Here you can compare which features other SoundCloud recorders offer:
Besides software and the browser extention, there are many online SoundCloud recorders.
How to record songs from soundcloud online for free
Why spend money if there is the opportunity to use a free SoundCloud downloader tool? You can record music from SoundCloud by using the following online tools:
However, it is recommended to avoid using them because you do not know whether the MP3 file you will get will be legal.
How to record SoundCloud music with the SoundCloud app for Android or iOS
You can also record music with the SoundCloud app for Android or iPhone. Please do the following steps:
Step 1: Tap the More menu in the upper left corner of the SoundCloud app.
Step 2: Click Record to open the page where you can record.
Step 3: Click the orange microphone icon and the recording process will start.
Step 4: When you are done with recording, you can edit it with the scissors.
Step 5: Click Next to add some information about the music piece.
Please note that you will need a confirmed email address, otherwise you will not be able to record with the SoundCloud app.
About Soundcloud
Soundcloud™ is a huge music platform that launched in 2008. You can try Soundcloud Go+ for 30 days for free and then using it will cost $ 9,99 per month. There is also a subscription for $ 4,99 per month with less functions.
Please note
Music from Soundcloud™ is copyrighted. Any redistribution of it without the consent of the copyright owners may be a violation of the law in most countries, including the USA. Audials AG is not affiliated with Soundcloud™, nor the company that owns the trademark rights to Soundcloud™. This page is provided for compatibility purposes only, and in no case should be considered an endorsement of Audials Software products by any associated 3rd party.