What Can I Do Here?
Adding Media to a Queue for Automatic Enhancement:
Make spoken words in movies more audible with speech amplification.
Convert music tracks, videos, audiobooks to different file formats and normalize them to the same volume.
Only in Audials One ultra: Sharpen, smoothen, and enhance the colors of videos with AI.

Enhancing Music and Videos
1. Open the Improve Media view in Audials.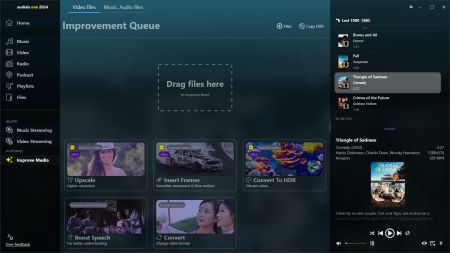 2. Drag and drop the music track or video into the center of this view using your mouse cursor. You can drag and drop files from the Windows Explorer or from the player located in the top right corner of Audials.

3. Choose what exactly Audials should improve in the music track or video for you. If there are additional instructions, follow them.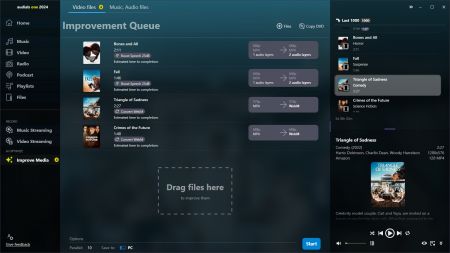 4. Once you have added all the media, you can start the process. Audials works through the list.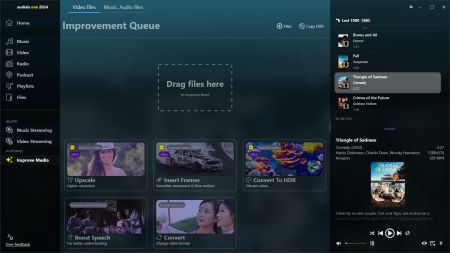 You will find the finished files in Video -> My Videos.
Tips
Avoid running other processes during enhancement to prevent processor overload for the best results.
The original files will not be altered, except for the addition of an extra audio track during speech amplification.
Depending on your computer's performance and the selected settings, AI enhancements can take a significant amount of time. You can pause the enhancement process at any time. Even after restarting or shutting down your computer, Audials can continue from where it left off.
Which file formats does Audials support?
Audio: AAC, AIFF, AU, FLAC, M4A, MP3, WAV, WMA, WMA Pro
Video: 3GP, 3G2, AVI, FLV, MKV, MOV, MPEG4 (MP4), WMV
Full list of the input formats
Full list of the output formats