What Can I Do Here?
Record music streaming from Spotify, Amazon Music, Tidal, Deezer, Apple Music etc. as music files
The recording can be made directly in Audials (with the internal player), from the streaming service's app or its website
Edit files, if necessary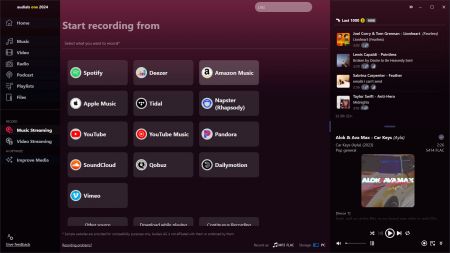 Example: Save a Spotify playlist in the form of music files
1. Open the Music Streaming menu item, click the streaming service tile.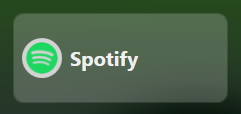 2. These settings work well, click Record.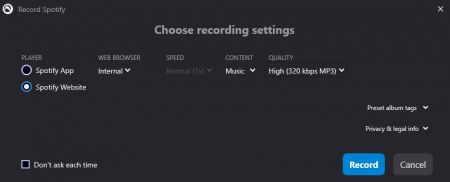 3. Spotify will now be displayed directly in Audials. You can search for music in Spotify just like you are used to do. As soon as you play music, Audials records it.
4. You see the recorded tracks in the upper right corner of Audials.
The music is located on the hard drive and in your music directory of the computer. You can play them in the Music view, edit them, etc.
Important Questions & Tips
Recording a specific streaming service does not work. What can I do?
Sometimes streaming services become suddenly incompatible due to changes until we have adapted Audials. Check Current audio/video recording issues to see if your issue is known. If not, contact the support and they will help you.
Try to record from another "PLAYER" in the settings when starting the recording, e.g. from the website of the service.

Where can I set the speed?
In the recording settings you can adjust the speed for many services:


Where can I define where and how my files are stored?
Click Storage in the footer



and there click the gear,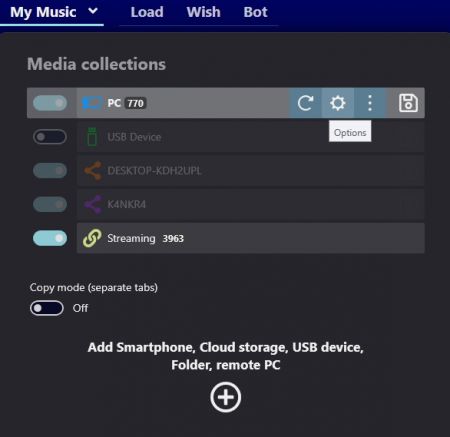 then a window appears that leads to all settings. Alternatively, you can click the dropdown menu in Music -> My Music to access the storage settings.
What is the internal player?
As an alternative to recording from the web browser, you can also record most music streaming services directly in Audials with the internal (integrated) player. The advantage of this is that you don't have to log in to the browser every time you record. To do this, you need to log into Audials once with your streaming login data and activate Remember me. You can delete the cookies stored in Audials at any time. To do this, open the settings at the bottom left of Audials, select Music Streaming Recording and under Cookies, including logins you may have entered, click Delete all.