Spotify to MP3/AAC/WAV/FLAC/AIFF Converter - How to use the powerful Spotify converter on a Windows PC
Updated: August 31st, 2022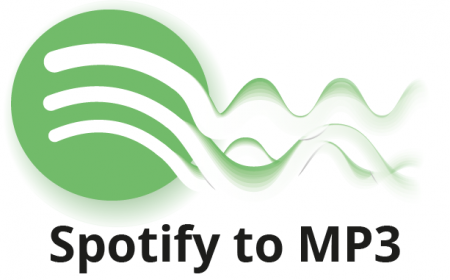 Record and convert Spotify music to MP3 and many other formats with the clearly designed Spotify music converter
Spotify is one of the most popular music streaming services with millions of tracks, playlists and podcasts. The good thing is that although there is the Spotify Premium subscription that enables you to listen to music at 320 kbps, you can also listen to Spotify for free at up to 160 kbps.
Spotify Premium users can record music directly from Spotify for offline listening, but they will not get real audio files. With the free subscription, you will not even have this download feature. That is why you will need a powerful Spotify recorder that will record and save your songs.
Both Spotify Premium and Free subscribers can use Audials Music that will do the job of a Spotify converter by recording the audio stream that is transmitted to your PC's sound system.
Good to know: No protection circumvented
Using the right tools,
only unencrypted data
is recorded from Spotify.
US law
tells that consumers won't face legal action when recording.
To avoid that Spotify may possibly suspend accounts, it is better to use
secure recording tools
which are invisible to Spotify.
1. Benefits of the Spotify to MP3 recorder "Audials Music"
Powerful Spotify converter
Convert Spotify albums and playlists at up to 30x (not recommended) or 1x speed with a Spotify Free or Premium subscription. Like this you can build up your own music collection.
Organized music collection with the music manager
You will get your favorite songs with all ID3 tags and meta data automatically. Additionally, the powerful music manager makes it very easy to retag thousands of songs fast and to organize your music. Audials Music can even sort the music files automatically while they are recorded.
Save your favorite playlists and albums as music files. Maybe someday you will decide to move from one music streaming service to another, then it will not be necessary to transfer all your data with special music transferring services like Soundiiz or Tunemymusic.
Play back your music on Android, iOS
A built-in converter can convert your audio files into numerous formats so that you can play them back on many other devices.
Audials Music supports the following audio input formats:
FLAC, M4A, WMA, WAV, AAC, 4XA and many others
Audials Music supports the following output formats:
AAC, AU, FLAC, MP3, WMA, AIFF, CAF, M4A, WAV, WMA Pro
2. How to record and convert Spotify to MP3, AAC, WAV on a Windows 10 PC
Build up a music collection by recording Spotify music. Learn how you can do that in 3 steps.
Step 1: Install the Spotify music converter "Audials Music"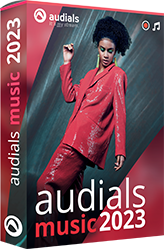 Install the Audials Music demo for Windows and launch it.
A registration is not necessary. If you do not like the software, you can uninstall it at any time.
Choose the desired audio format in Format on the downside of your screen, for example MP3.
Step 2: Prepare Audials Music
Open the Music Streaming menu item.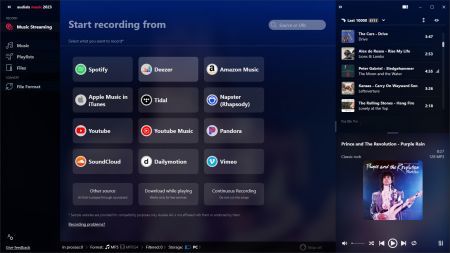 Now a window opens where you can choose your settings. Important: In order to avoid risking your account being blocked, please set "Record while playing" and the "normal" (i. e. realtime) recording speed. Additionally, choose the album tagging from Audials.
Open a playlist or album in Spotify and play back the music.
Step 3: Audials Music will record and convert Spotify automatically
The Spotify music streaming is automatically recorded and the music saved as single files, tagged and in the highest audio quality, depending on the maximum bitrate of your subscription.
What is the Spotify converter doing exactly?
The Spotify audio streaming is separated and recorded into your preferred file format like MP3, WMA, AAC or others and tagged with ID3 tags, album cover, and song text. The completed files will then be displayed in the Audials player on your right. You can now play the files with Audials or drag & drop them into another application or Windows Explorer to export them.
With this recording feature, the signal from your soundcard is recorded and saved as a file on your PC.
Get on board today and benefit from the Audials Music features and a money-back guarantee of 14 days
3. How to record Spotify music files to MP3 and other formats
You have already recorded Spotify songs but need them in a different file format to play them back on other devices? Then convert them with the built-in audio converter.
Step 1: Choosing the audio files
Switch to the Converter menu item in Audials Music, click + Files and add your files to the queue.
Step 2: Set desired format and storage location
Choose the output format with the dropdown menu, for example MP3 MPEG4. You can save the converted file in the original folder or choose a different one.
Click the Start button.
4. Compare Audials Music to Spotify converters
Of course, there are many other Spotify recording tools. Here you can see which of them are the best and which features they offer.
* yearly
** lifetime
*** The manufacturer TunesKit previously had a website with the same name. Now this tool is available on viwizard.com.
Results: Audials Music is the best Music Spotify converter
If you compare the price-performance ratios of all tools, you will see that Audials Music is the best Spotify converter because it has a comparatively low price and offers all important features that a music lover appreciates. Furthermore, Audials Music is the only Spotify music converter that has two options where it records from, from the Spotify app and spotify.com. Your Spotify credentials will be safe because you will not asked to enter them into Audials Music.
5. About Spotify
Spotify is a trademark and music streaming service developed by Spotify Technology S. A., which is headquartered in Sweden. Spotify provides more than 40 million songs and audiobooks. Spotify launched first its service in 2008 and is today available in 65 regions. Spotify offers a freemium service with basic features and advertisements or limitations. A paid subscription offers additional features, improved music streaming quality, and no advertisments. In 2018 Spotify had 180 million monthly active users including 83 million paying subscribers. Spotify allows to download and use offline 10,000 music tracks on one device and up to 5 devices with one account.
FAQ
How can I record and convert Spotify to MP3?
To record music from Spotify as audio files, you will need a Spotify converter, for example Audials Music. Please follow the steps described above to record Spotify albums or playlists.
Which software is the best Spotify music converter?
Audials Music is the best Spotify music converter because it records from the Spotify app or from spotify.com and does not ask you for your Spotify login data. Additionally, it has the best price-performance ratio.
6. Please note
If you register or subscribe to Spotify, you will agree to the Spotify terms of use. We recommend to read them carefully and to adhere to them.
According to the Copyright Law of the United States, "No action may be brought under this title [copyright law] alleging infringement of copyright […] based on noncommercial use by a consumer of [a digital audio recording device]".
The Spotify music stream that Audials is able to record is not protected by effective copy-protection measures. Audials just records the unencrypted signal which is outputted to the system sound device.
Besides the background recording in realtime (1x speed), recording in high-speed (up to 30x) is available in Audials Music. When you start recording in high-speed, Audials Music communicates with the Spotify servers. When you record in 1x, Audials Music does not communicate with Spotify servers.
The Spotify app could check your PC whether it is prepared for recording. So currently, you'd better only consider "secure" recording methods that protect your usage data by only recording music at realtime (1x) speed and that do not communicate directly with the Spotify servers. In Audials, this will be ensured if you use the recording from the Spotify website, not from the Spotify app.
Music from Spotify™ is copyrighted. Any redistribution of it without the consent of the copyright owners may be a violation of the law in most countries, including the USA. Audials AG is not affiliated with Spotify™, nor the company that owns the trademark rights to Spotify™. This page is provided for compatibility purposes only, and in no case should be considered an endorsement of Audials Software products by any associated 3rd party.
Please read our legal information.